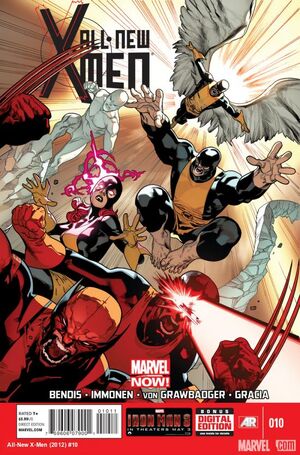 Comic Details
Publication Details
Series Title:
All New X-men Vol 1
Released Price:
$3.99
Issue #:
10
Series Volume #:
1

All New X-men Vol 1 10 is issue #10 of All New X-men comic series.
BRIAN MICHAEL BENDIS (W) • STUART IMMONEN (A/C)
MANY ARMORS OF IRON MAN VARIANT BY Greg Horn
• The Uncanny X-Men come to the Jean Grey School to recruit.
• Who will join Cyclops and his revolutionary crew? The answer will shock you!
• Mystique and Sabretooth continue to hatch their master plan and it doesn't bode well for the All-New X-Men.
The Story
Edit
Warning! Spoilers!
Person, Place, or Thing
Edit
Characters
Edit
Supporting Characters
[[]]